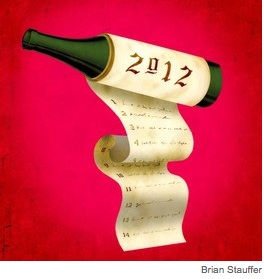 1. Drink less, but better. I don't necessarily expect to keep this one, but I like to make it every year, and at the end of the year I can tell myself I'm batting 500; even if I don't drink less, I do tend to drink better as I learn more and as the older wines in my cellar reach maturity. And it's my firm belief that the better the wine, the less it hurts you in the morning.
2. Drink more Riesling. Riesling is one of the food-friendliest wines in the world, and every wine merchant and sommelier you encounter will think you're cool if you ask for it. Germany is the source of the world's greatest Rieslings, which tend to be low in alcohol and high in refreshing acidity. Many people are scared away by the notion that German Riesling is sweet, but a little residual sugar nicely balances the high acidity. In fact, the trend in Germany at the high end of the market is toward drier wines, some of which can be searingly citric. The word "trocken" denotes a dry wine, "halbtrocken," or half-dry, is slightly sweeter. The only problem is that many makers don't use these terms and it's not always possible to tell where any particular bottle falls on the scale. So let's amend that resolution: This year I plan to learn more about German Riesling.
Alsatian Riesling can also be confusing because it's hard to know whether a wine is completely dry or has some level of residual sugar. If dry is your preference, you can't do better than the Rieslings from Trimbach, one of Alsace's oldest producers.
Austrian Rieslings are probably my favorites, almost always dry although some, like F.X. Pichler, can be very ripe and rich. I'll be drinking more of these, with particular focus on Alzinger, Bründlmayer, Knoll, Nigl, and Hirtzberger.
3. Don't drink the wine at charity benefits. I happen to attend quite a few of these events over the course of the year. The speeches can really drag on and it often seems the only recourse—short of heckling the speakers or hurling the centerpiece at the podium—is to drink copiously. Unfortunately the wine at these affairs is inevitably inexpensive—in the interest of keeping costs down and delivering more of the ticket price to the worthy cause in question—and almost inevitably lousy. Veterans of the benefit circuit are familiar with the particularly pernicious hangover that can result from swilling plonk for three and a half hours. For some reason the liquor is usually of a much higher caliber than the wine, so my new intention is to nurse a couple of vodka-and-sodas through the course of these evenings. Maybe three if the speeches are really long.
4. Drink more Chenin Blanc. Chenin from the Loire is one of the world's least appreciated wines. (More on this subject next month.) If I experience a personal financial crisis, I will change this resolution to: Drink more Muscadet. Another Loire white, Muscadet is the best white wine value in the world.
5. More grower Champagne. The best thing to happen in Champagne since the restoration of the bombed-out Reims cathedral after the Armistice is the rise of the grower Champagne movement. More and more farmers who used to sell to the giant Champagne houses are vinifying their own grapes. The guru of the grower movement is Anselme Selosse, who studied in Burgundy and brought back to his father's domain in Avize all kinds of new ideas, including the basic insight that everything begins in the vineyards. In Champagne, this was a radical idea—the big houses bought grapes in bulk from growers who had little incentive for meticulous viticulture.
Smaller is not always better, but it's not unlikely that a guy making his own wine with his own grapes is going to take better care of them than someone who sells them by the pound to a corporation. What's more, while the average Champagne grape loses its identity in a huge blending vat, grower Champagnes reflect the character of a particular site, or village. In a (French) word, terroir: the concept that wine reflects the weather, soil, geology and topography of the land on which the grapes are grown, and that the most unique and exceptional wines come from a single exceptional vineyard. Not all these Champagnes come from a single vineyard—some growers own different patches of land—but most come from specific villages, and experienced tasters can often distinguish between one from Mesnil and another from Bouzy. "Single vineyards are the future," says Mr. Selosse, whose wines you're likely to find only on the finest restaurant lists. Other favorites: Egly-Ouriet, Cedric Bouchard, Gimonnet, and Larmandier-Bernier.
6. Give Beaujolais a chance. Is that snickering I hear? Cut it out. True, there's an ocean of mass-produced, banana-flavored plonk produced in this region and caution is advised. But there are also some beautiful artisanal reds, especially the cru Beaujolais from Morgon, Moulin-à-Vent, Brouilly, Saint Amour and Fleurie, among others. In the right hands, Gamay from these villages produces juice with many of the virtues of Pinot Noir; think of Beaujolais as red Burgundy's cute younger sibling. The 2009 Beaujolais were terrific, if somewhat uncharacteristically ripe and full-bodied; the 2010s are also very good, if a little lighter and fresher. I will be looking for wines from Jean-Paul Brun, Clos de La Roilette, Georges Descombes and Jean-Paul Thevenet. And I will seek out the last vintages of the late Marcel Lapierre, who died in October, 2010.
7. Beware of bargains when buying older wines. Last year I bought a bottle of 1982 La Mission Haut-Brion from a retailer for what seemed a bargain price. The fill was a little suspect, meaning that the wine had receded down below the shoulder of the bottle—not unheard of for a 30-year-old wine, but a possible warning of bad storage and/or a less-than-perfect seal. I took a chance, because the bottle cost 40% less than it should have. And indeed when I opened the wine a few weeks ago it wasn't nearly as good as previous bottles I have had. It was more than 40% worse, and hence no bargain. Buying older wines is tricky, and it's crucial to trust the retailer or auction house, and to get as much information as you can about the provenance of the wine.
8. Don't forget Bordeaux. The classed growths have gone crazy in price but there's an ocean of good inexpensive (under $30) Bordeaux from the great 2009 vintage. Look for such unsung appellations as Lalande-de-Pomerol, Fronsac, Côtes de Castillon and Bordeaux Supérieur and makers like Bel-Air, Jean Faux and Chasse-Spleen.
9. Try to get this nasty Burgundy habit under control. Burgundy is like the girl from Bennington who made me miserable my sophomore year at Williams College: She keeps breaking my heart, but I'm obsessed, crazed with lust, spending ridiculous amounts of money on the object of my desire. Because when she's good, she's very, very good…
10. Carpe diem. As Andrew Marvell said, if I recall correctly: "But at my back I always hear/Time's killer taxicab hurrying near." We're not getting any younger. Open the good stuff now—and drink it.