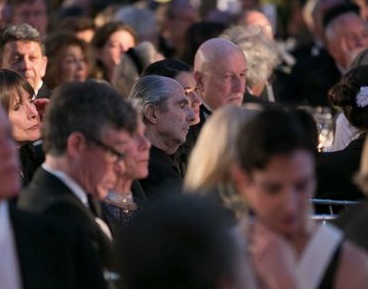 At five in the morning on October 3, 2011, Turkish police raided the home of Ayse Berktay, a writer and translator, seizing personal papers and files, without an arrest or search warrant. She was eventually charged under Turkey's anti-terror legislation with "membership in an illegal organization" for allegedly "planning to stage demonstrations aimed at destabilizing the state, plotting to encourage women to throw themselves under police vehicles so as to create a furor, and attending meetings outside Turkey on behalf of the Kurdistan Communities Union (KCK)," a banned pro-Kurdish party.
Berktay is one of more than 1,800 people, including writers and academics swept up in mass arrests of supporters of Kurdish rights in Turkey. She is a member of the pro-Kurdish Party for Peace and Democracy, which has 36 elected members in the Turkish Parliament. This past Tuesday she received the PEN/Barbara Goldsmith Freedom to Write Award, at the annual Pen benefit gala at the Museum of Natural History, of which I was a co-chair. I've been a member of PEN for many years, and I'm deeply impressed with the work the organization does on behalf of imprisoned writers around the world.
The winner of the 2009 Freedom to Write Award was imprisoned writer and politicial activist Liu Xiobao, who went on to win the 2010 Nobel Peace Prize and was represented at the ceremony by an empty chair since the Chinese government refused to let him travel to Stockholm. Xioboa is serving an eleven-year sentence for "inciting subversion of state power," as one of the co-authors of Charter 8, which called for expanded human rights and an end to one party rule. In the meantime his wife Liu Xia is under house arrest, without phone or internet access. Two weeks ago she was allowed a brief respite to attend the trial of her brother on fraud charges. I'm not free," she shouted to reporters from a car window after leaving the court. "When they tell you I'm free, tell them I'm not." (As part of its World Voices festival PEN released a "Creativity and Constraint in Today's China," detailing China's censorship and persecution of writers and artists, which you can read here)
PEN also honored the great Philip Roth on Tuesday night with its Literary Service Award. In addition to his many services to literature Roth was being recognized for his support of Eastern European writers struggling under Soviet occupation, when he devised a system whereby leading American authors including himself, Arthur Miller, Arthur Schlesinger, William Styron and others were able to send cash envelopes every month to writers like Milan Kundera, Ivan Klima who'd been forced to work in menial jobs—Klima for instance, worked as a messenger, a train driver and a surveyor's assistant—and would otherwise have been unable to support themselves while continuing to write.
Elegantly MCed by NBC's Willie Geist, the gala concluded with a short plea from me—briefly interrupted by an intoxicated writer at my table exercising her right to free speech—to support PEN and the work it's doing to protect freedom of expression around the world. I'd like to reiterate that request here.
—Jay