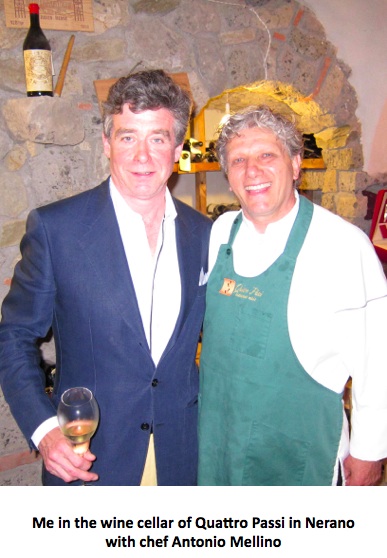 Spending a week on the Amalfi coast in June is pretty much my idea of nirvana, but I'm a little depressed about the fact that in all that time and despite a twenty-hour layover in Naples I had only one pizza. And strangely enough it was at a Michelin one star restaurant in Positano, in the San Pietro hotel. But damn was it good, much better than the wood-grilled dorade for which I had high hopes—the only disappointing fish I had on the trip, strangely flavorless, possibly not entirely fresh. The view almost made up for it though—we were perched on a cliff about five hundred feet over the Mediterranean. The wine was good, too: I was drinking from a mag of 2001 Terre di Lavoro—tried to drink locally while there, and there are some great reds in Camapania.
The cliché that its hard to eat badly in Italy seems especially true of the south and the Amalfi coast, where the fish is usually served the same day it's caught—not least since they don't believe in ice—and where the fruit and vegetables are grown on terraced plots dug into the cliffs rising from the Med. Our first lunch on Capri, at Il Riccio, involved a monstrous grey fish (see pic) that looked like a giant dorade and weighed eight kilos. Since we were a party of ten they had it on display sitting uncooked on the counter when we arrived. No sign of ice, but I checked the flesh, which was very firm and the eye was clear and so we went for it; they roasted it whole with onion and tomatoes and capers and it was utterly fantastic, though more suited for a party of twenty. We started t with an array of very fresh vegetables including eggplant, which I normally despise, and some great fried anchovies. Washed it all down with a great little Terradora rose, very light and dry.
The best meal I had in a string of very good ones was at restaurant Quattro Passi in Nerano, owned and operated by chef Antonio Mellino, who grew up in this tiny town and started his hospitality career with Carnival Cruise lines, eventually returning to open a pizzeria. (Pizza!) The ambitious restaurant he opened after the pizzeria just got its second Michelin Star in November. The chef himself came down to the dock to greet our tender, and drove us up the hill before taking us on a tour of the wine cellar, which was absolutely packed with great bottles, Italian but also French and Spanish—I think he mentioned 14,000 bottles. He presented us with a magnum of 1999 Serpico, a great aglianico from Campania, grown virtually next door, and then led us upstairs to a big table overlooking the Mediteranean. We had a view of the three islands of Li Galle, where we'd had lunch that day, famous as the spot where Ulysses, as he's known in these parts, was waylaid by the sirens sweetly singing. Rudolph Nuryev owned the islands for many years, and we had lunch with the present owner and his houseguests, including Julian Schnabel, on Galle Lungo, the biggest of the three. (He's got them all on sale for $260 million. Sadly I forgot to bring my checkbook. ) After lunch I kayaked around the island, forgetting that the whole siren legend probably arose in response to whirlpools and currents that have waylaid ancient sailors, but fortunately I made it all the way around without incident, discovering a cave along the way.
Up at Quattro Passi, everything very simple, from the tomatoes and mozzarella to the ravioli, the linguine with zucchini, which I never would have ordered but was amazing. All the vegetables were grown nearby on terraces built into the cliffs and they all tasted incredible fresh and intense. The fish, which he showed us before cooking, was the morning's catch—grilled sea bass, with oil and herbs and finally a piece of perfect grilled lamb. After we polished off the Serpico we got a mag of 2000 Gaja Barberesco—drinking brilliantly—for the lamb. It was only when we finished that the chef told me about his pizza making experience and I was sated at that point.
Two nights later we went to another two star Michelin restaurant in Ravello, Rosselini's, in the Hotel Sasso. Mellino's friend Pino Lavarra is the chef here and he does a great job, although I wasn't convinced by the ricotta and crudo amuse that showed up first. But then I had possibly the best risotto ever—saffron and sea urchin with mussels, all wrapped in a thin layer of pasta, washed down with a fine 2009 Vintage Tunina. Worth a detour, in our case a twenty-minute bus ride up the hill from Amalfi.
I'm already planning a return trip next year, allowing a couple of days in Naples for pizza.