The Good Life
2007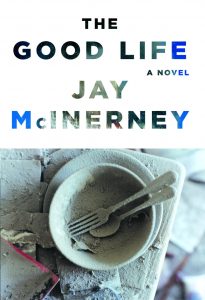 Synopsis
In The Good Life, Jay McInerney unveils a story of love, family, conflicting desires, and catastrophic loss in his most powerfully searing work thus far. Clinging to a semiprecarious existence in TriBeCa, Corrine and Russell Calloway have survived a separation and are wonderstruck by young twins whose provenance is nothing less than miraculous. Several miles uptown and perched near the top of the Upper East Side's social register, Luke McGavock has postponed his accumulation of wealth in an attempt to recover the sense of purpose now lacking in a life that often gives him pause. But on a September morning, brightness falls horribly from the sky, and people worlds apart suddenly find themselves working side by side at the devastated site. Wise, surprising, and, ultimately, heart-stoppingly redemptive, The Good Life captures lives that allow us to see –through personal, social, and moral complexity– more clearly into the heart of things.
Author's Notes
The Good Life had a long and difficult birth. Starting around 1999 I experienced, for the first time in my life, that affliction known as writer's block, with which I had very little previous acquaintance. I was going through a very rough patch: my third marriage was disintegrating and I was struggling with acute depression. Then on Sept 11, 2001, the World Trade Center was attacked, and suddenly, and for some time to come, writing fiction seemed like a frivolous pursuit.
I was fortunate enough to get past the police barricades and talk my way into a job as a volunteer at a soup kitchen which had sprung up a couple of blocks from Ground Zero at Bowling Green. Because I happen to know a lot of chefs and restaurateurs, one of my jobs was to cadge meals—a hundred taglieteli Bolognese from Babbo, eighty tuna burgers from Union Square Café. For a long time I didn't even think about fiction but eventually, after the soup kitchen had closed shortly before Thanksgiving, it occurred to me that as someone who considers himself a chronicler of New York it behooved me to try to record some aspect of the collective experience in the wake of September 11th. The idea that fiction was somehow rendered irrelevant by the events of that day had come to seem misguided. I realized that literature can provide narratives and myths and metaphors with which we are able to comprehend and interpret cataclysmic events.
Early on I knew I did not want to write about terrorism or the global implications of the event, but about its effects on the populace. I wanted to recreate the extraordinary emotions of the immediate aftermath. I'd always known that at some point I would revisit Russell and Corrine Calloway, from Brightness Falls. They had stayed with me all these years, and I had often sketched out details and facts of their lives. That was the easy part, though it would take me four and a half years to actually finish the third draft and in fact the first draft barely resembled the final version. In the first draft there's no love affair between Luke and Corrine. Once I stumbled on the idea of a love affair at Ground Zero the story started to come together.