Author's Notes
2000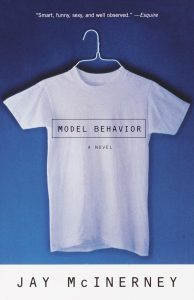 Synopsis
Jay McInerney's first novel, Bright Lights, Big City, helped bring about a revolution in contemporary fiction in trade paperback. But more importantly, its publication brought us a major writer of great literary talent and incisive perception.
In his latest novel, Model Behavior, McInerney offers us the portrait of a doubting devotee of the city where vocation, career, and ambition (which only occassionally coincide) run head-on with friendship and love—or merely desire. We see Conor McKnight's well-earned ennui fast becoming anxiety as he tries to protect himself from the harrowing fate that unfolds before his bleary eyes. McInerney is at the peak of his craft in what is sure to become a classic at the end of the century
Author's Notes
I can't exactly remember the genesis of Model Behavior, although I would say at this distance that it was an attempt to reclaim the material of my youth and write one more book about an irresponsible post-adolescent who has yet to sign the social contract. This may have been inspired by the fact that I had recently become a father and I was nervous about it. I think the book was prescient in at least one regard, which is its anticipation of the epidemic of celebrity journalism, its protagonist being one of those poor hacks who has to write mostly fawning profiles of movie and television stars. I guess some people might think of this as a dream job but Collin McNab is smart enough and ambitious enough to want more. He lives with, and loves, a woman who is poised at the portal of entry into the glittering world of which he writes, a model he met in Japan, with whom he moved to New York. I'd had a wife and a long term girlfriend who were models, so I'd done a lot of observing of that particular world.
Another thing I can't remember is whose decision it was to include seven short stories with Model Behavior, but that's what we did in the hardcover edition. In fact I think Model Behavior is properly categorized as a novella rather than a novel, so publishing it with additional stories made sense. What got confusing was that some of my foreign publishers including Bloomsbury, my British publishers, wanted to publish the novel and the novella separately. I wrote three more stories to flesh out the short story collection and this has resulted in some confusion. I called that book, which was not published in the US, How it Ended, a title I recycled when I published my collected stories in the States in 2009.