Brightness Falls
1997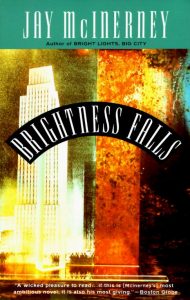 Synopsis
The bestselling Brightness Falls—now in trade paper from the author of Bright Lights, Big City. In the story of Russell and Corrine Calloway, set against the world of New York publishing, McInerney provides a stunningly accomplished portrayal of people contending with early success, then getting lost in the middle of their lives.
Author's Notes
Brightness Falls is probably my favorite of all the novels. It was certainly my most ambitious up to that point. I remember one day waiting at a light to cross Fifth Avenue and seeing, across the street, Ronald Perelman, the billionaire soon-to-be owner of Revlon, waiting on the other side of the street. Standing next to Perelman was a homeless man. And I thought—yeah, that's New York. And I want to write a novel capacious enough to contain both of those characters, the billionaire and the homeless man. I was inspired, too, by Balzac's Parisian novels which I was reading at the time.
As much as it's a novel about New York, Brightness Falls is also a novel about marriage. I wanted to write about a successful marriage, in part because my second marriage had just fallen apart. I think in many ways I thought of Russell Calloway as a kind of counterpart, living what Phillip Roth would call my counterlife. If I hadn't become a novelist I almost certainly would have become an editor, like Russell. And if I had married my college sweetheart—what would that be like? I was interested in exploring the roads I hadn't taken, in creating an alter ego in Russell who would be the normal, more conventional version of me, although the fact is Corrine, his wife, interested me at least as much as Russell and almost stole the book. It's easy to write about whackjobs and eccentrics, harder to write about smart, complex people who are trying hard to do the right thing. I like Russell and Corrine, which is why I keep returning to them.
The writer Victor Propp was based on Harold Brodkey, a very brilliant and complicated figure who loomed large on the literary landscape in the eighties but who is somewhat forgotten at the moment. The New York Times quoted from Brightness Falls in Brodkey's obituary. I thought of it as a sympathetic portrait although Brodke yelled at me when I saw him at a party not long after the book came out.